Mintville is an imaginary, rather small rural settlement where sophisticated gardeners and musicians live. Although they are a long way past their forties they are still in mint condition, like collectable vinyl records. All the women who have moved here after many years of travels and affairs are attractive, smart and warm-hearted. It is always a source of amazement at their recurring "39th" birthday parties that they have daughters in their late twenties. Gangs of cats and children are the secret rulers of this village.
Mintville is also a group of amateur musicians. Consisting of founder members Achim Susbauer, Peter Müller and Richard Bellinghausen it was created among friends when in spring 2011 we decided to play music more regularly instead of the few isolated events we had gotten used to in the more than 20 years we'd already known each other. Our songbook has since made a shift from cover versions to originals for which Achim and Peter provide music and Richard his English (sort of) lyrics. With the arrival of Hiltrud Triphaus and Franz Kremer in 2015 the band expanded to quintet size.
The inimitable Roland Enders acts as studio and guitar wizard, capturing our songs for "posterity". A number of high-calibre guest stars assist us in achieving luxurious recordings while our sound is more vegetarian and basic when we play the same songs live as a five piece band.
Their debut album from 2014. Currently, they are recording their next album which will be released in 2019.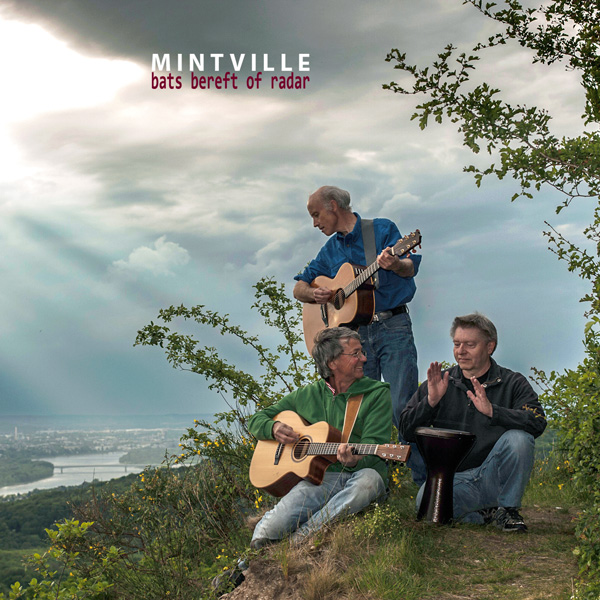 Credits
Guest musicians:
Karl Beck
Wilfried Bellinghausen
Roland Enders
Roberto Fersini
Sebastian Frick
Lilo Gerdes
Steffi Giershausen
Franz Kremer
Sonja Lichtenberg
Sabrina Palm
Anne Schiranski
Michael Tamme
Hiltrud Triphaus
Edgar Zens
Artwork, images:
Richard Bellinghausen
Tom Birkhäuser
Franz Buhr
Elisabeth Enders
Credits for ambient-samples from freesound.org
Downloads
Bats-Ears - audio tracks (MP3)
Bats-Eyes - Artwork, Lyrics & more
Listen to:
Every Mouth You Kissed
Progress Stumbles On
Peppermint Patty
Cherry Blossom Time
Nobody There
Expecting Good Weather
A Sudden Glimpse Of Spring
A Matter Of Trust
A Word About Changing
Paint Me A Desert
Luxury In Solitude
Indian Summer Girls
Snow In Clonakilty
The Eve-Janine Rag