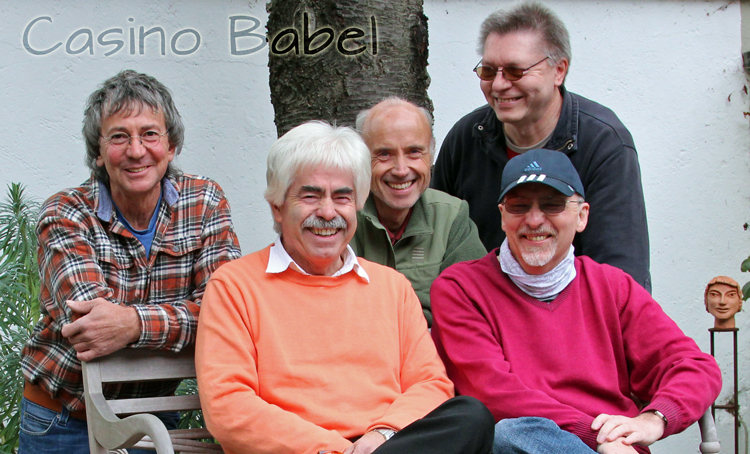 All albums of Casino Babel are available as free downloads! Get the latest two albums in the download area below and check the discography for the earlier releases.
---
Saved By A Friendly Shark
Track list
01 - Rainwater Lake
02 - One-Way Ticket To Mars
03 - The Sea Is Coming Back To Me
04 - Longing For The Night
05 - Milky Way And Andromeda
06 - Françoise Dorléac
07 - I'll Go Like The Wind
08 - Let Some Happiness Shine
09 - Surrounded By Infinity
10 - Catching A Thief
11 - The Princess Of Spain
12 - Behind A Hedge

Credits
Casino Babel:
Karl Beck
Richard Bellinghausen
Roland Enders
Peter Müller
Achim Susbauer
Guest musicians:
Wilfried Bellinghausen
Franz Kremer
Sonja Lichtenberg
Anne Schiranski
Michael Tamme
Hiltrud Triphaus
Edgar Zens

Photos booklet:
Karin Kämmerer
Richard Bellinghausen
Booklet model:
Katrin Mattila
Coordination & design:
Richard Bellinghausen
Recording, editing, mix & master:
Roland Enders
---
Ages Ahead Of The Fashion
No Flash-Plugin!
Track list
01 - Mixed Reviews
02 - A Little Lighter Every Day
03 - Slip Right In
04 - Unicorn On A Unicycle
05 - Catherine Says
06 - Steeped In Anticipation
07 - Festival Of The Birds
08 - Probably You
09 - Burning Bridges
10 - Keeping Up With Yesterday
11 - Making Contact Through A Lens
12 - Froglets Taking A Nap
13 - How The West Was Lost
14 - Saddle Bag Lament
15 - In Flagrante Delicto?
16 - Wonder Thing
17 - Closer To The Sun
Credits
Guest musicians:
Winfried Brauner
Sebastian Frick
Lilo Gerdes
Steffi Giershausen
Sonja Lichtenberg
Sigrid Pallast
Claudia Salzig
Michael Tamme
Edgar Zens
Artwork and pictures:
Richard Bellinghausen
Franz Buhr
Elisabeth Enders
Cover model:
Karen Korth
Recording, editing, mix & master:
Roland Enders
---
Download area
Saved By A Friendly Shark
Ages Ahead Of The Fashion
The print files are included
Unzip the downloaded files (e.g. with 7-zip or IZArc)
---
Biography
In the mid-eighties regionally well-known folk-rock group Aigues Vives disbanded after many live gigs, one LP and a Compact Cassette of demos for an intended follow-up. Three of its members, Karl Beck (vocals, bass, guitar), Roland Enders (vocals, guitars, keyboards, bass) and Richard Bellinghausen (vocals, drums, percussion) subsequently started studio project Casino Babel to record a cassette tape's worth of newly-created songs. In the initial run that debut was followed by another five albums. Collaborating with a number of guest musicians Casino Babel checked out the creative alleys of folk, pop and rock. Malte Burchard (technology) and Karin Thiermann (vocals) were temporary members completing the lineup of Beck, Enders and Bellinghausen.
Using modern computer technology it is fairly easy nowadays to single-handedly produce well-sounding songs. During the years '85 to '97 when Casino Babel was active as a studio unit this was quite a challenge though. Technological means such as 8-track recorder, Atari computer, spring reverb, 8-bit-drumbox and some cheap microphones were very limited. Considering the circumstances at that time quite an appealing sound was nevertheless achieved. Original producer Roland Enders created restored and remastered versions in 2010.
That same year the band decided to record a new album after a 13-year-hiatus. Since then founder members Beck, Enders and Bellinghausen have been joined by two additional songwriters, Peter Müller and Achim Susbauer.
---
Discography
| | | |
| --- | --- | --- |
| 1997 | 1993 | 1990 |
| 1988 | 1987 | 1986 |